Pavan, decoratief pvc pleister truweel, 240x100x1mm, ref 817/PV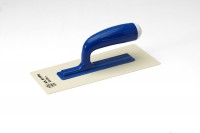 Pavan, decoratief pvc pleister truweel, 240x100x1mm, ref 817/PV
Pavan PVC decoratie spaan (240x100x1mm) die geschikt is voor het polieren van Ecotec leemstuc of glanspleisters.
Deze spaan is flexibel en dus niet geschikt voor het plaatsen van stugge of harde pleisters.
Ceci est un aperçu des produits récemment consultés par l'utilisateur.
Une fois que l'utilisateur a vu au moins un produit, ce fragment sera visible.
Articles vus récemment